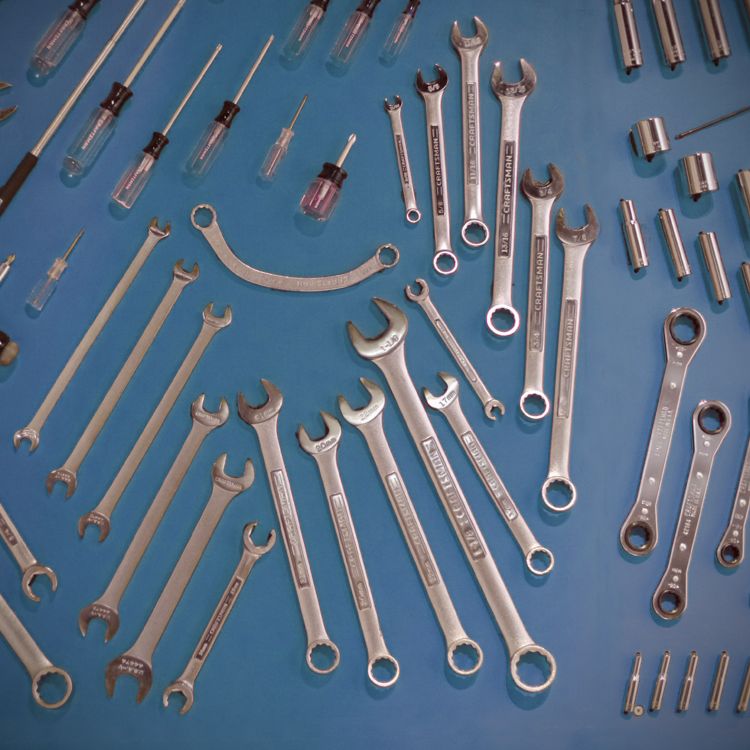 If you can't find anything in your garage (or, heaven forbid, can't fit the car in it), it's time to organize it.
Materials
Chalk
Measuring tape
Tire block, or tennis ball and string
Printer paper
Drill/driver, cordless
Drill bits and drivers
Level
Fasteners
Adjustable wrench or socket wrenches
Stud finder, digital
Steps
Know your options

Before you haul things out of your garage and go into a buying frenzy in the store's organizer aisle, take time to check out what storage equipment is on the market — and how much it costs. Craftsman has an interactive garage planner with a wide choice of cabinets, shelves, adjustable wall racks, ceiling lofts and the like. By knowing what products are out there, you'll be better prepared to weigh your choices when you eyeball your possessions later in this project.

Here's a quick look at the basics:

Cabinets and shelves
Cabinets have doors and are either wall-hung or free-standing. Get one with a lock for storing hazardous materials like paint thinner and pesticides.

Like cabinets, shelves are either wall-hung or free-standing. Adjustable shelves give you more flexibility.

Bins
Plastic bins protect their contents from moisture, dust and vermin. Clear plastic lets you see what's inside. Bins of the same size are easier to stack.

Storage aids
There's a world of storage aids that take advantage of otherwise wasted space overhead, on walls and under your workbench. Look for ones that morph to meet changing needs. Here are some ideas:

Install overhead racks for gangly items (lumber and skis) and seasonal items (storm windows, Christmas decorations). An overhead rack with a pulley system is ideal for raising and lowering heavy items.
Hang bikes from bike hooks on the wall or from the ceiling.
Store sports equipment, like ever-underfoot soccer balls, basketballs and Frisbees, in wall-mounted nets and baskets.
Use adjustable wall systems for long-handled garden tools, extension cords and other hard-to-store items.
Mount pull-out wire baskets beneath wire shelves for items that may be damp, like work gloves, lawn sprayers and sponges.
Contain hand tools for auto repair and carpentry in wheeled carts.

Chalk around your car

Pull your car into the garage so it clears the door by a foot. Install a tire block or tennis-ball-on-a-string as a parking guide. Use chalk to mark the outline of the car on the floor, crime-scene style. Pull the car out of the garage and make another outline of the car about two feet out from the first. The area inside the mark is your storage "no-fly" zone — the space you have to leave clear for the open car doors and walking around the car.

Measure the square footage of the garage floor outside of the no-fly zone to know how much room you have for cabinets and utility shelves — leave space for the door to the house or yard to open. Measure your car's height to determine how much hanging storage you can use. Allow at least 6 inches above the car for clearance.

Empty your garage

That's right, empty it. Haul everything out, right down to the last scrap of 2x4. As you do so, organize your stuff into categories such as Auto, Sports, Seasonal, Lumber, Paint and the all-important "Donate/Recycle/Toss." (Guess which pile will be the largest.)

Then subdivide each category into things you can hang on the wall, things you can store overhead (either on a loft or in hanging nets), things that go in cabinets or on open shelves, and things that go in drawers. Keep like items together as much as possible; they'll be easier to find.

Design some kind of plan

Some people are blessed with spatial skills that let them envision how storage units will fit into a space, while the rest of us muddle along as best we can. Wherever you fall on the spectrum, come up with a plan, however rough, for what goes where. That way, you stand a better chance of coming home from the store with all the storage fixtures you need, and not too much of what you don't need. Here are some pointers:

Size up. Look at the piles within each category to get a sense of how much space you need, and what kind (shelf, cabinet, overhead, hanging).You can improve your guesstimate by multiplying the width and length of each grouping to determine how many square feet it takes up.

Zone your storage. Decide the most convenient location for each category. For example, store gardening tools by the door to the backyard. Mount racks for sports equipment close to the garage door.

Sketch it out. Draw a plan of your garage showing free floor space and wall space (note doors and windows). If you work better in 3D than 2D, take digital photos, print them on regular letter-size paper and then mark the dimensions on the paper. Make photocopies of the sketch or photos, and draw in different storage scenarios.

To make the garage seem more spacious, keep as much stuff as you can off the floor and allow a little extra space between items on open shelves and hung on the wall.

Buy and install your organizers

Armed with your knowledge of storage gear, how much stuff you have to store and how much space you have, you can then buy (or build) storage that makes good use of your space.

Follow the manufacturer's instructions for assembling and installing each piece. Always attach storage racks to framing members — either wall studs or ceiling joists — to keep them from falling when loaded. If your garage is drywalled, use a digital stud finder to find framing members. Use fasteners the manufacturer recommends.

You can also follow our step-by-step instructions to Build a Garage Storage Rack.