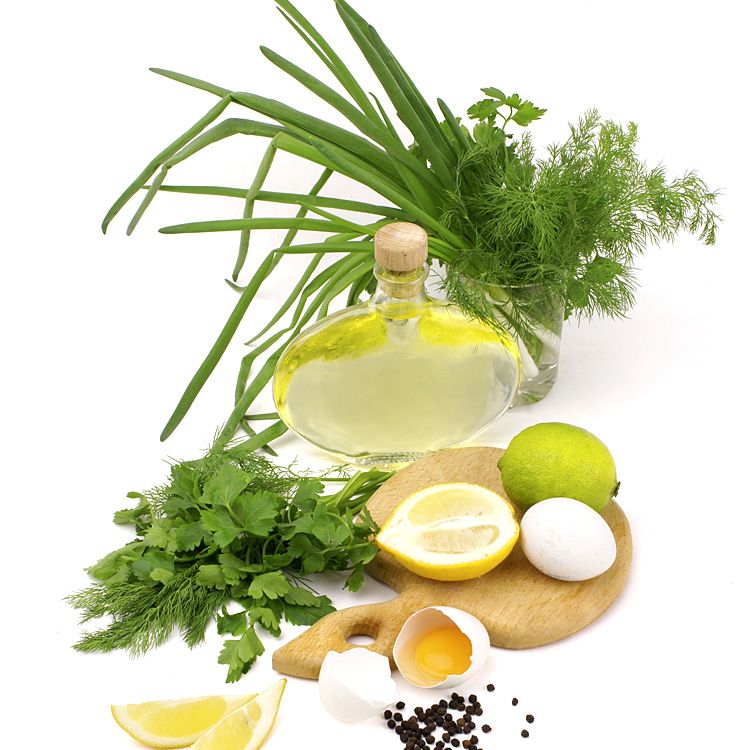 Fresh herbs are a true culinary delight. You can easily bring herbs' color, flavor and aroma to all your dishes.
Materials
Bowl
Salad spinner
Paper towels
Food processor
Scissors
Kitchen shears
Cutting board
Knife
Kitchen string
Cocktail shaker
Sachet
Coffee filters
Grill
Ice cube trays
Measuring cups and spoons
Plastic bags
Jars or glasses
Steps
Select fresh herbs

Smell and visually examine all herbs before buying them. You want herbs that have a nice, strong aroma and a clean, fresh odor. Don't buy herbs that have brown and wilted leaves or slime on them.

Prepare your herbs properly

Wash your fresh herbs right before you add them to your recipes. Follow these steps to make sure you use only the best parts of your herbs:

Remove any dead or damaged leaves and trim the stems.

Submerge the herbs in a bowl or pan filled with cold water. Gently swish your herbs around, then let them rest for a moment so any dirt or debris falls to the bottom of the container.

Remove the herbs and dry them in a salad spinner before you mince, chop or use them whole. You can dry your herbs by rolling them in and patting them with paper towels.

Use scissors or kitchen shears to cut herbs for stews and soups. To cut herbs as finely as possible, use a food processor.

Try this at home

Fresh herbs add unique flavors to entrees, appetizers, side dishes, condiments and beverages. Use these suggestions to get started and don't be shy about experimenting.

Marinate meat, poultry, fish and vegetables. Add chopped parsley, rosemary, cilantro, tarragon, thyme, oregano or sage to marinades for meat, poultry, fish and vegetables.

Make whole grains a whole lot better. Mix a bit of olive oil, salt, pepper and chopped fresh herbs to brown rice, pasta, quinoa or couscous to create a healthy and delicious side dish.

Flavor soups and stews. Make a bouquet garni to flavor soups and stews. Bundle parsley stems, bay leaves and thyme sprigs in a sachet or coffee filter and tie the herb-filled pouch closed with kitchen string. Drop the bouquet garni in the soup or stew while it simmers and remove the bundle of herbs before you serve your guests or family. To add a last bit of fresh flavor, stir chopped parsley, cilantro or chives into each person's soup or stew bowl.

Add power to your poach. Add basil leaves, cloves, cinnamon or rosemary stems to your liquid when you poach peeled pears, apples or peaches.

Grill and roast. Use the woody stems from fresh rosemary as skewers for grilling vegetables or shrimp. Use the rosemary leaves in a marinade or sprinkle them on potatoes before roasting.

Make fresh pesto. Classic pesto combines fresh basil, pine nuts, garlic, parmesan cheese, salt, pepper and olive oil. You can also make a pesto using parsley instead of basil and walnuts or pecans instead of pine nuts. Use pesto to dress pasta or rice, or add pesto to plain yogurt to create a dip for vegetables or chips. Freeze extra pesto in ice cube trays for future use.

Spread the wealth. Blend one stick of softened, unsalted butter with 1 teaspoon each of fresh chopped thyme, tarragon and parsley.

Toss them around. Add chopped fresh leafy herbs such as dill or tarragon to mixed greens for a fresh blast of flavor.

Freshen up your refreshments. Add fresh mint leaves to pitchers of mineral water, iced tea or lemonade.

Give dessert a boost. Use lavender, rosemary or basil to fill shortbread cookies with herby goodness. Sprinkle chopped basil or mint over frozen yogurt and fruit. Give anything a black licorice bite with a pinch of anise.

Raise your glass. To make a refreshing nonalcoholic drink, put ice, three basil leaves, 3 oz. of strawberry syrup and 1 oz. of lemon juice in a cocktail shaker and shake vigorously. Pour the mixture into a soda glass and top it with 2 oz. of seltzer water.

Store your herbs securely

Refrigerate fresh herbs right after you buy them. To keep them in top condition for 2-3 days, wrap your herbs in a slightly damp paper towel and put them in a resealable plastic bag. Herbs stay fresh for 5-7 days if you trim their stems, stand the herbs in a glass or jar filled with water, and loosely cover the leaves sticking out of the top of the container with a plastic bag.